As a landlord or property owner, understanding the market — and getting ahead of it — can help you prepare your business for changing conditions.
To help you do exactly that, our team of economists uses analytics techniques to create an accurate picture of where the market is going at any given time, which you can use to apply to your specific situation. In this webinar, Zillow's Senior Managing Economist Dr. Skylar Olsen looks back at 2017 to:
Examine macro trends for the national market and renters
Share her predictions for supply and demand across different types of rentals
Predict where rents are headed in 2018
Below we've summarized some of her key takeaways.
Rent trends
Rent growth, while remaining steady since 2012, is speeding up again. Rent was increasing the fastest in 2015, before the building boom took pressure off and rent growth started to slow a bit. Now it is moving quickly again at a national level.
Locally things can vary widely, and in some areas like Pittsburgh or Miami, rents are stagnant or even falling, perhaps showing a bit of volatility in the market after so much building. In other — and perhaps surprising — areas of the country like Sacramento and Salt Lake City, rents are heating up.
In general, rent increases of 2 to 3 percent are good. Any higher and they outpace income increases. In fact, the areas where rents are increasing the most are those with good, high-earning jobs coming in. The big story here is the growth of the tech industry, and the biggest story within that is the location of Amazon's second headquarters. The new location can expect rents to grow at the same rate as some of the highest-growth areas in recent years, like Seattle.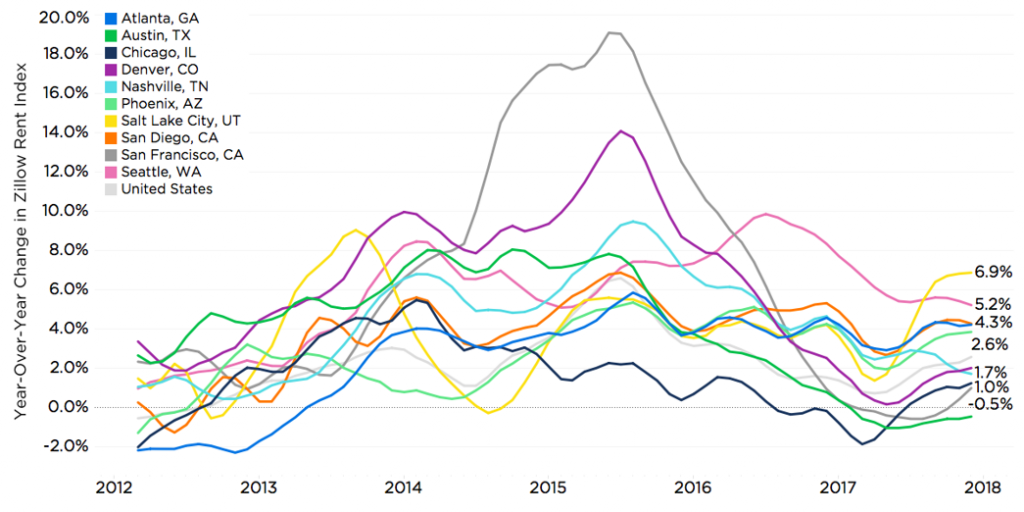 Trends affecting the move to homeownership
The American dream has often been defined by owning your own home. But in today's market, there are a few things affecting the move from renter to homeowner.
While there was a recent boom for building new apartment buildings, new house permits remain nearly as steady as they were before and through the recession. This has made finding homes to buy difficult, even for renters who have income and savings to qualify for a mortgage.
This affects houses for rent as well. We know that millennials, for example, are starting to look — later in life than past generations — for single-family homes to rent or buy as they start to form long-term partnerships and have children. In fact, though household formation has started to slow, it still outpaces owner household formation.
And renting single-family homes is increasingly popular. Overall, the U.S. homeownership rate is near historic lows, but there will be plenty of new households left over who'll rent — and plenty in the pipeline for years.

Affordability and the rental market
Affordability of for-sale homes and rents is a key takeaway for 2018, for a number of reasons. Currently, there are fewer houses for sale among bottom- and middle-tier homes, which are the most affordable to new home buyers. Single-family rentals are also concentrated in the bottom tier, and activity there has increased in the past decade.
Many of those in the rental market — including millennials, Gen X and even baby boomers — also consider buying as they look for homes. Yet homeownership is at near historic lows, likely because prices for new inventory in the form of newly built homes has climbed higher and higher as compared to existing homes.
At the same time, rents are more unaffordable than ever in many markets, with many renters reporting having nothing left from their paychecks at the end of the month for savings. As a result, the share of adults doubling up in their households has increased across all age groups, and lower-income workers with jobs in major downtown cores have steadily moved farther away from city centers, sacrificing distance for affordability.