The Best Tips For Selling a Waterfront Property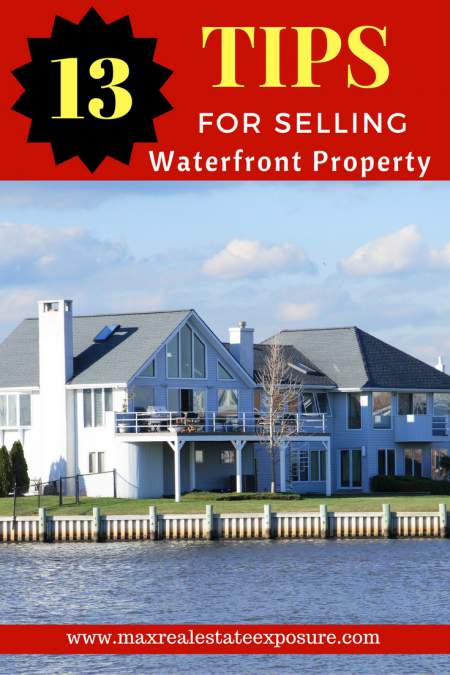 SaveWill you be selling a waterfront property shortly? If so you might want to be well armed with some of the top waterfront home selling tips!
When it comes to waterfront homes, you would think that they would essentially sell themselves. But in reality, it is only the idea of living on the water that tends to get an automatic "yes". The actual homes can sometimes face considerable competition, which means as a Realtor you are going to have to bring your A-game to make sure your sale is successful.
Quite often a waterfront property can also be considered a luxury home sale as well, especially if you are located on the ocean or a sizable lake where high-end homes are the norm and not the exception.
More often than not with a waterfront home, you are selling more than a structure but a lifestyle that goes along with it. Quite often this can be just as important to a buyer of a waterfront home.
It is vital that the real estate agent you hire has a strong grasp on how to market a waterfront home. Keep reading, and you will see some of the best tips for selling a waterfront property.
How To Sell A Waterfront Property
1. Understand who you are selling to.
One of the most valuable waterfront home selling tips is knowing who you are marketing to. Selling a waterfront property is much different than selling a traditional non-waterfront home. Most buyers who are looking at waterfront homes are doing so because of the body of water, whether it is an ocean or a lake.
Many of these buyers have a preconceived notion of exactly what they are looking for whether it is a spectacular view, a private beach or just a place the can put their boat in the water. As a seller, you need to know what the "hot buttons" are for your property and market the heck out of them.
The goal, of course, is to reach those buyers who want the same thing that turned you on to the home when you bought it. Understanding the buyer persona is very similar to when you are selling a luxury property.
The real estate agent you are working with should have a firm grasp of this as well. Remember your agent will be the conduit to the buying public so choose one wisely.
Many people make the mistake of picking a real estate agent who has no experience selling waterfront homes.
2. Price it correctly.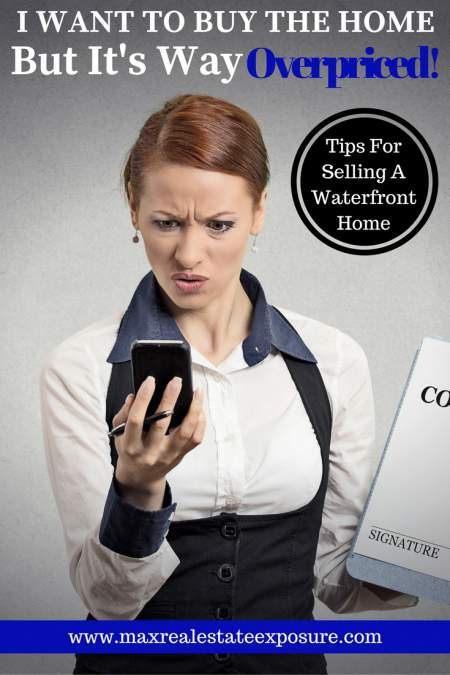 SaveThe price you put on the home will make a huge difference in the success of your sale. If you price the home too high, it will sit on the market for an extended period and most likely develop a stigma.
The longer a home sits unsold, the more buyers assume that there must be something wrong with it. Your home could be in perfect condition, but if it is priced so high it repels buyers, it can still develop a bad reputation.
Pricing too low carries its own problems, with you essentially leaving money on the table, so you want to be careful to price it right. Find the sweet spot based on a comparative market analysis and do your best to price the home competitively with other similar homes in your area.
If your Realtor is having a difficult time putting a price tag on your home, it may be worth it to hire a local appraiser. Waterfront properties often have unique features and fewer comparable sales. For the average real estate agent, this can be a challenge.
Quite often while selling homes in the Metrowest Mass area over my thirty-year career, I have found numerous sellers who believe that just because their home is on the water, it's an open invitation to overprice the property. They often think the water "will carry the day" so to speak.
Just like any other property you need to price the home appropriately. Buyers are just as astute buying a waterfront property – maybe more so in many cases. Someone buying a waterfront home will typically do an endless amount of research about the property. Their research often includes an in-depth understanding of the market and what these types of properties are fetching.
If your home is on a lake, they will often ask many of these questions about lakefront living. Be prepared to answer them.
3. Know everything you can about the home.
Being able to price a home well compared to other homes in the area requires knowing the home inside and out. Understand how the location of the home factors into the price, and get accurate measurements of square footage, the size of the waterfront, frontage and anything else that will make a significant difference in the price.
Remember to include any amenities that are part of the community that the waterfront home is a member of, like a clubhouse or a fitness center. Equally important, make sure you get accurate information about any amenities the home has privately, like a private dock, beach or a boathouse.
Again you are trying to convey a lifestyle to the buyer pool for your home. Make sure your real estate agent puts together a feature sheet that highlights all of the local amenities.
4. Maximize the visibility and "stage" the waterfront.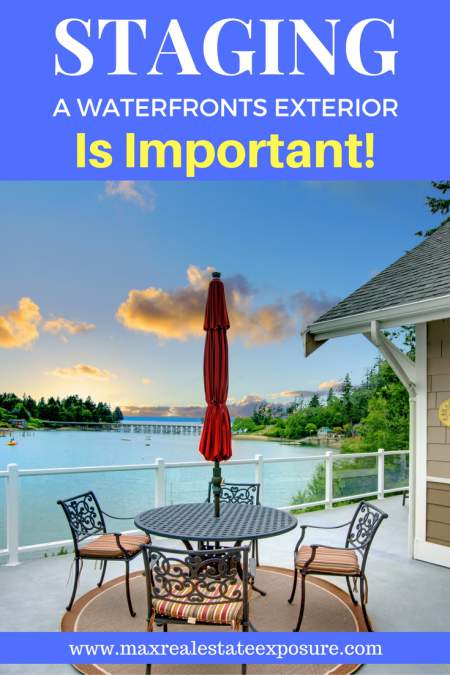 SaveYou may have a fair amount of waterfront along your property, but the only way that potential buyers will notice it is if you have made it visible. If bushes and trees are obstructing all of the views of the water, then you may want to consider trimming the foliage to make the water easier to see and enjoy.
Of course, you don't want to just hack up all the trees by your home, either, so just be careful. It may be best to bring out a professional arborist or landscaper to decide how to maximize your view without ruining everything in the process.
Realtors who have sold numerous waterfront properties will often offer suggestions on how best to stage the exterior surroundings. For example, if you live on the ocean with a beach, a table with an umbrella, a few beach chairs, and a grill could go a long way in showcasing part of the outdoor lifestyle. What you are trying to do is make it easy for the buyer to see themselves in your home.
If you live on a lake you could do something similar but maybe have your "toys" in full view of the dock, whether it is your canoe or jet-ski.
5. Get a Home Inspection.
You may know a lot about waterfront homes, which will certainly come in handy during the sales process. However, it is still to your benefit to bring in a professional home inspector to do a thorough evaluation of the property.
A home inspector is trained to examine homes in your area, and he or she is best qualified to identify any possible issues with the home. Here are some great tips for picking a home inspector you will love.
One of the potential issues that lots of buyers will have about purchasing a waterfront property is any possible water issues. There is nothing that can turn a sale sour quicker than water penetration into a home. The concern is further heightened if there has been water at some point in the past.
Buyers want to feel confident they will not be dealing with a mold issue. Having a pre-listing home inspection will not only give you piece of mind but could turn up some issues you were not aware of that can be fixed before listing for sale.
Additionally, be prepared for the buyer to ask if your home requires flood insurance. If it does, make sure your real estate agent discloses this up-front. Buyers do not like surprises, and flood insurance can add a significant cost when buying a property on the water.
6. Market with exceptional photography and video tours.
If you are an avid reader of my blog, then you know how important photography is for selling a home. Having great photos is one of the things I preach over and over whether you are selling a million dollar home or a low-end condo. Your photography is the conduit to the world.
There is nothing that will turn a buyer away quicker than lousy photography. When selling a waterfront property, your exterior shots become a vital cog in your marketing machine. The lake or ocean you live on should be a significant part of your marketing!
Another important selling tip for waterfront homes is using a professional video tour with a voice overlay to convey what is remarkable about living on your body of water. While a well-done video tour can be a bit pricey, it is well worth it when selling a waterfront home. See more of the best marketing tips for selling a home in this comprehensive article.
Another point that should not be missed is how important your real estate descriptions are to selling the home. While photos are king, your marketing narrative will be queen.
7. Make sure you can get to the dock.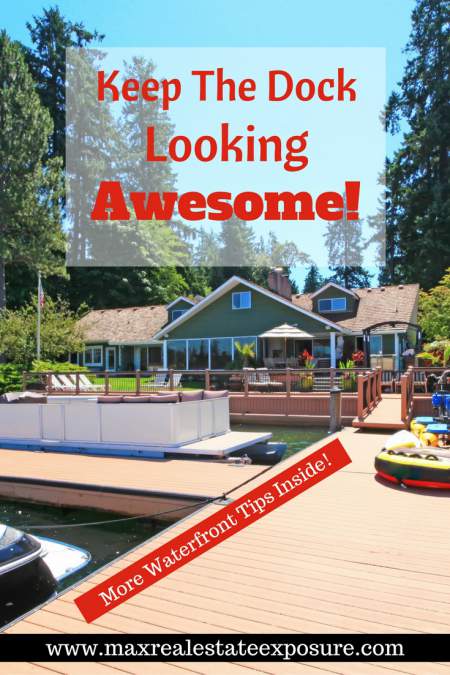 SaveWhen you have buyers over to look at your home, you can guarantee that they will want to take a walk down to the dock. But if you don't use the dock very often, or if you have let the landscaping slack over the past few years, chances are there will be some undergrowth in the way.
Bushes along coastal and lakefront areas are often tough and eager to fill in gaps, so needing to trim them back is perfectly reasonable. Just make sure you have cleared the way to the dock so that anyone viewing the home will have easy access.
Always keep in mind the curb appeal with a waterfront property includes more than just the immediate area surrounding the home.
8. Repair the dock if necessary.
The new owner of the home may never use the dock, but you can be certain that he or she will want to know it is functional before buying the home. The dock could be a big selling point for the property, so you will want to have it repaired if it has been damaged or degraded to the point of being unusable or unsafe.
You don't have to renovate the dock if it's not necessary, but you do need to get it in good working order before you try to sell the home. Sometimes a fresh coat of stain or paint will go a long way.
Looking for some dock inspiration? Check out these great docks from Houzz.
9. Make the shoreline accessible if possible.
In the same way that the path to the dock can become overgrown, the path to the shoreline may also be grown up and complicated to use. If your shoreline is in any way usable, then you will want to clear the way to it so that potential buyers can see it for themselves. It's especially important when you have a small beach or path along the water.
A walk along your little beach may be the selling point that tips the scales!
10. Clean up the shoreline.
If you have lived on the water for very long, you know that the shoreline is constantly being covered with detritus from the waves. Trash, fishing line, floats, plastic bags – anything that goes in the water may wind up on your shoreline at some point.
While you know and expect a certain amount of litter, potential buyers have a different image in mind when they imagine their dream waterfront home. There is no trash in their dreams, so it is in your interest to make sure there is no trash when they view the home and the shoreline.
11. Focus on curb appeal – in front and along the shoreline.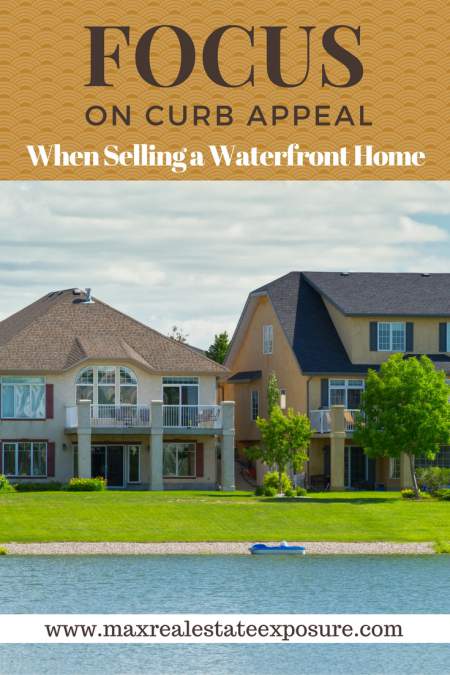 SaveCurb appeal is a major selling point for any home. In the average neighborhood, improving curb appeal usually means mowing the grass, seeing to the landscaping and cleaning up the front of the home so that anyone driving by sees the property in its best light.
With a waterfront home, you have two "curbs." Cleaning up the waterfront side is just as important, maybe more so, than cleaning up the traditional curbside.
If you have a boat, you can take a few turns in front of your house on the water and see if you notice anything out of place or any ways you can improve the look of the home. You can take your real estate agent out with you and brainstorm about what changes you can make to attract potential buyers.
12. Clean the windows.
The saying a picture is worth a thousand words is certainly true when it comes to selling a waterfront property. Views should reign supreme!
Another simple thing you can do to improve the visibility of the waterfront is to clean your windows. Real Estate agents recommend all the time to make your windows sparkle. Doing so is even more important when selling a waterfront home.
Living along the water means your windows are going to get dirty, it's just part of the package. Before buyers show up, though, make sure this isn't the case with your home. It can help tremendously.
13. Hire a Realtor that knows waterfront properties.
As I mentioned previously, it is incredibly important work with an agent who does an exceptional job with their real estate marketing.
With a Realtor experienced in waterfront properties, you can significantly improve your odds of getting a good price for your home. A good agent will know all of these waterfront home selling tips and can customize his or her advice to your particular circumstances.
Hiring the right Realtor is always important but especially so when marketing and selling waterfront properties!
Final recap.
Hopefully, you have enjoyed these thirteen tips for selling a waterfront property and can use the information on your sale. Keep in mind, you own a great asset, and it deserves maximum attention from someone who does an outstanding job!
Additional helpful home selling resources
Use these additional resources to make your waterfront home sale more successful. Best of luck!